MasterPapers Review for Making the Right Choice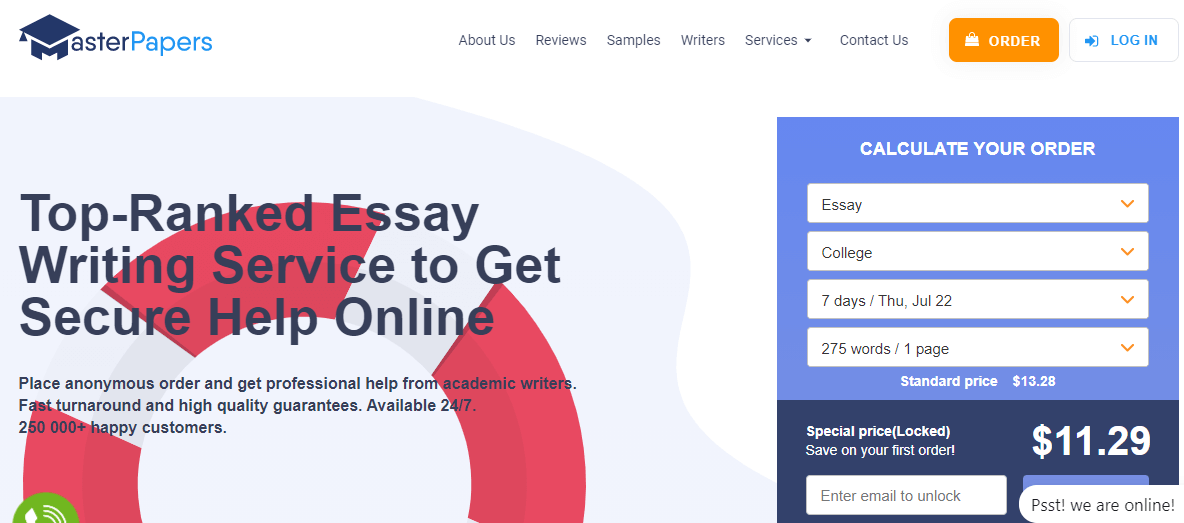 Affordable Prices – 3
Online reputation – 4
Skilled Writers – 3
Safety Guarantees – 3
User Friendly Support – 2
Visit site
September, 2021 Last Update
MasterPapers is another writing service. It is managed by WritePerfect LTD, which stands behind lots of other similar agencies. This means that you can expect the same prices, writers, and terms across all platforms. Unfortunately, all of them are far from being perfect.
To give you an unbiased review, we have evaluated their website, prices, writers, papers, policies, and other important aspects. Continue reading to learn more!
Our First Opinion
After getting familiar with masterpapers reviews, we should agree that this website makes a positive first impression. It is easy on the eye, and even if you are new to academic writing, you'll easily figure out how everything works. However, there are lots of 'but' to consider.
Platform Usability
It is quite easy to use the platform because all the buttons are where they should be. There are lots of pages and sections, so you will probably end up finding the necessary information. However, this may take time and energy.
Design and Outlook
What we don't like about masterpapers.com is its design. Yes, it is appealing but too boring and similar to thousands of other platforms. They use the same colors and fonts, so nothing stands out. However, some may say that it is a plus because it is easier to understand how everything works.
Useful Information and Navigation
One of the biggest flaws of such websites is the huge number of ads and texts. It is so difficult to find the necessary sections and everything is made to confuse and make you order extra services. Unfortunately, it is a regular approach, and most writing companies use this strategy to fool their customers.
Pros
A 15% off masterpapers.com discount
Many services
Paper samples
Cons
Fake positive reviews
Complex ordering procedure
Writers without any experience
No chance to get a cash refund
Poor content quality
Provided Services
Masterpapers offers a decent list of services which is a good option for those who want to order several tasks at the same place. You can find the full list at the top of the website under the Services button. Let us name a few options:
Admission essay
Annotated bibliography
Application essay
Blog post
Case study
Capstone project
CV and resume
Dissertation
PowerPoint presentation
Social media content
Editing, paraphrasing, and proofreading
Fees
We are sure that you can't wait to get familiar with masterpapers prices. Let us disappoint you: they are above average, and the lowest possible price for written from scratch papers is $15.26. Too much, right? Here are some other examples:
College argumentative essay, 10-days deadline – $17.52/page
Undergraduate business plan, 7-days deadline – $21.73/page
Master coursework, 5-days deadline – $24.69/page
Editing – from $8.30/page, proofreading – from $7.21/page
You can also purchase VIP support for $10, a one-page summary for $25, and a plagiarism report for $15. At MasterPapers, you will literally have to pay for every service!
Banking Options
You can pay for the assignment with one of the following methods: Visa, Mastercard, Amex, or Discover. Don't forget that depending on the country of your residence, additional fees and taxes may apply. We recommend contacting the support team to clarify these important details.
Discounts
Considering how high their prices are, it would be fair to offer a masterpapers promocode and freebies. However, the agency wants to earn as much as possible, so there is only one promotion available: a 15% discount for the first order.
It may sound impressive, but even with 15%, the final price will be higher compared to other writing companies. Nothing more than a simple marketing trick.
Refund Policy
If you scroll to the bottom of their homepage, you will see links to Masterpapers policies. A Money-back guarantee is one of them. Unfortunately, there's not much to read there because the phrases are general, and it's almost impossible to get a refund. Customer support reserves the right to decide whether you deserve a money return or not. The decision greatly depends on the number of pages you have ordered and the percentage you are willing to return.
Information About Writers
As usual, one of the most important things to discuss is the experience and proficiencies of people working on your assignment. That is why we want to dedicate the following sections to the team behind Masterpapers. But let us warn you that the information won't be pleasant.
Is Direct Communication Possible?
There is a chance to communicate with the assigned writer directly. Fortunately, the times when you had to contact them through the support team have long gone. But this means that if the writer is away or busy, you won't be able to provide any extra instructions. And the waiting time may last for several days.
Degrees and Background
On the main page of the website, you can notice the Writers button. It takes you to a page where Masterpapers writers are listed: their photos, names, number of completed orders, and a brief summary. But you don't have to be Sherlock Holmes to notice that the pictures are fake and the names are too common. As if they were taken from a random name generator!
Unfortunately, hundreds of masterpapers Reddit reviews confirm this thought. People checked the assigned writers, and they weren't who they claimed to be.
Quality of Papers
It is sad to find out that for such a high price you are not guaranteed a good result. You don't know who is going to write the paper, so it may be filled with mistakes. Our experience with Masterpapers shows that they don't create original and error-free content. There are lots of imperfections in structure and flow. Even Middle School students know English better!
Writing Style
Writing style deserves a separate paragraph. It seems that Masterpapers writers are foreigners who have never studied in English-speaking countries. The outlines are wrong, and the word choice is poor. It is painful even to look at those samples. We can imagine how embarrassing it is to hand such a text to teachers.
Security Guarantees
The safety of customers should always come first. Probably for this reason, MasterPapers have created the following separate pages:
Terms and conditions
Revisions and refunds
Cookie policy
The problem is that these pages are wordy and complex. It is impossible to understand what they offer and how they are going to protect your interests. And when trying to clarify this issue, the support team doesn't answer.
Ordering Procedure
While many writing agencies have already switched to simple order procedures, at Masterpapers, you should be ready to spend much time. The order process consists of four stages and includes lots of details. You should also verify the account and make a payment.
24/7 Customer Assistance
At first glance, MasterPapers has great customer support – it is available round-the-clock and can be reached in lots of ways—for example, three phone numbers, live chat, email, and social media accounts. However, we tried several options and always had issues with late responses. Plus, the phone numbers are not toll-free, so you should be ready to pay lots of money for a call.
Final Thoughts
Is masterpapers scam? Unfortunately, yes. After a detailed analysis of their services, it is obvious that they simply mask an ugly appearance under a good-looking façade. You shouldn't expect much from them and be ready to be left without an assignment.
Masterpapers Quality
We are not satisfied with the quality of papers they create. For such a high price, users expect outstanding results, but it is not the case with Masterpapers. Their writers are students without any experience and foreigners. They make simple mistakes, don't follow the instructions, and fail to find interesting arguments.
Timely Submission
The deadlines vary from one hour to two weeks. This gives customers a chance to find the most suitable option. However, if you have a shorter deadline, don't count much on Masterpapers because very often, they are late with completion. This is proven by hundreds of negative comments online.
Not the Best Option
Considering the above, we don't recommend turning to MasterPapers. Fortunately, you still have lots of options to choose from, and we are ready to offer them. Just pick a company that we reviewed and awarded with top scores, and be sure to receive outstanding results.
Similar Reviews
FAQ
Masterpapers is a writing service that doesn't have much to stand out. But we still wanted to review it and tell readers whether they should pay attention to the agency. If you have any questions left or want to summarize everything you've read before, read our answers below.
Is Masterpapers Legit?
The agency doesn't have a physical address, so you can't check whether their activity is official or not. In addition, there is no clear information on their website about the licenses and certificates that they offer.
Is Masterpapers Reliable?
Even though we have found several positive reviews, most of them were fake. This gives us a chance to make an assumption that MasterPapers is not a place you can trust. To achieve solid results and avoid stress, it is better to choose a more reliable company.
Is Masterpapers Safe?
This service uses DMCA protection and claims to encrypt the data of its customers. Although there is no way you can check whether these claims are true or not, it is a big advantage. We still recommend using the most reliable payment methods and avoiding sharing too many personal details.
Is Masterpapers Cheating?
Yes, it cheats on a few things. First of all, they often fail to meet the policies and guarantees. This means that you might end up with poor-quality paper or no papers at all. They also give fake information about the writers, so you don't know who is working on your assignment.
Is Masterpapers Trustworthy?
Considering all the above, we can't name them a trustworthy writing company. There were many testimonials and situations when MasterPapers proved to be an unreliable agency that is not able to protect its customers. What else do you need to make a decision?