2021 Edubirdie Review You Were Searching For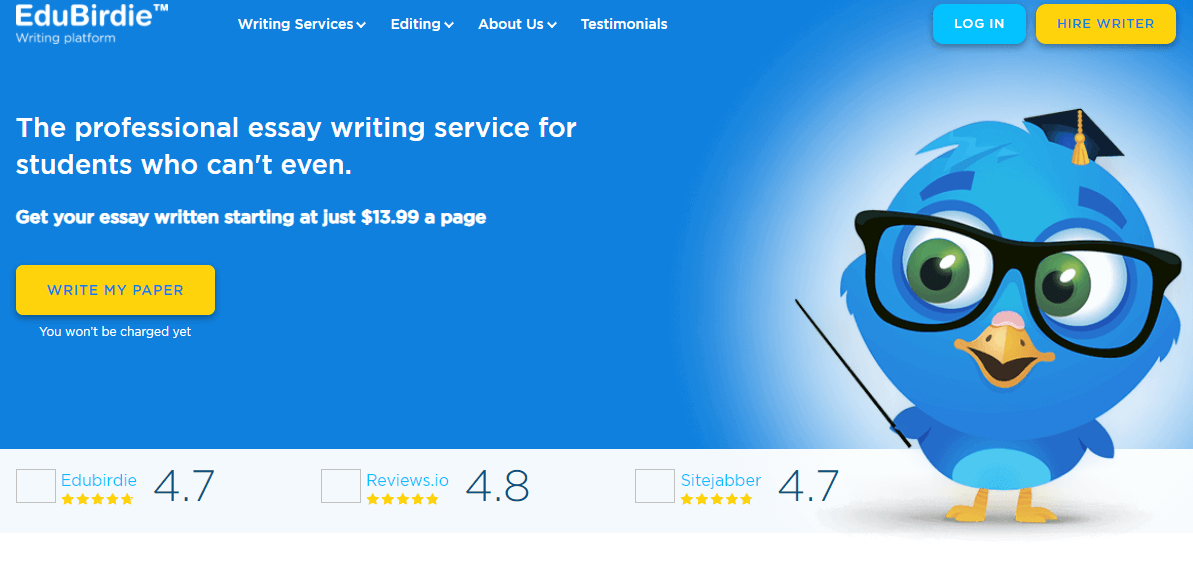 Affordable Prices – 3
Online reputation – 3
Skilled Writers – 1
Safety Guarantees – 1
User Friendly Support – 2
Visit site
September, 2021 Last Update
Welcome to a fresh and updated edubirdie review – a place where you can learn more about this popular writing service. Let's begin with its background. The company is based in Bulgaria and connected to Boosta that has been involved in numerous scandals before.
Edubirdie itself was in a series of unpleasant situations in 2018 when they ordered a promotion on YouTube. But after a negative response and lots of awful comments from former customers, they deleted the evidence and tried to hush up the case. But the Internet remembers everything!
First Impression
What is edubirdie? How does it operate? We are sure that you have lots of questions and can't wait to get the answers. Fortunately, you are in the right place, and in a matter of minutes you will find out the truth! No matter how rough it may be.
Platform's Usability
Does edubirdie work? Yes, it does. The website loads quickly both on desktop and mobile, so not depending on whether you use a laptop or a smartphone, be sure to have access to the necessary information. There are also lots of buttons that will take you anywhere on the platform.
Design
Edubirdie.com is a good-looking platform with a white and blue color scheme. Its logo – a cute cartoonish bird won't leave anyone indifferent. The fonts and the buttons are modern, and it is obvious that the design and development team work hard to maintain everything properly. The only drawback is that the website lacks individuality, and all the sections and pages are copied from other writing companies.
Access to Useful Information
We don't like the fact that Edubirdie literally attacks users with information. There are lots of texts everywhere which is very distracting. You simply can't find the necessary details in all the noise. Even though we are experienced users, it was difficult to understand how everything worked. Plus, their marketing is very aggressive, and the support managers are intrusive.
What We Like
Many provided services
Convenient and good-looking platform
What We Don't Like
Edubirdie's prices are too high
Fake writers
Plagiarized papers
Slow support
Lots of extra fees
No discounts
Provided Services
There are three main types of provided services:
Writing
Editing
Non-word assignments (presentations, Excel sheets, etc.)
If you need a written from scratch assignment, be sure to find the necessary paper type and subject here. One of the few advantages that they have is the diversity of services—for example, essays, coursework, research papers, dissertations, and laboratory assignments. Unfortunately, in Edubirdie's case, quantity doesn't mean quality. A broad list of services is not a reason to tolerate awful paper quality.
Prices
This company is based on a bidding system. This means that you can't calculate the prices to decide whether this company is affordable or not. The only information you can find is that Edubirdie prices start at $13.99 per page. However, you won't find such bidders even if they are foreigners without any experience.
Banking Options
As a rule, writing companies don't offer many payment methods, so students need to tolerate a limited amount. Edubirdie is not an exception, and you can use only PayPal or Visa/MasterCard. However, we have found many claims saying that the payments are sometimes 'lost'. And, of course, the company isn't responsible for anything.
Features and Promotions
Don't waste your time trying to find Edubirdie coupons and discounts. There are none! We asked the support team for clarifications, and they said that their papers were of the highest quality, so there was no reason to offer discounts. Quite a weird reply, don't you think?
Plus, there are lots of extra payments and hidden charges along the way—for example, writer's category, priority assistance, and so on.
Refund Guarantee
Is edubirdie cheating? Unfortunately, yes. And they do it quite often even though there is a refund policy available. You have three days after placing an order to return the money. However, if the service decides that your complaint doesn't have grounds or if the writer is already working on the text, you shouldn't expect any discounts.
Edubirdie Writers
To make our EduBirdie.com review detailed, let us discuss their writers. The people who stand behind the papers. We are sure that you can't wait to find out the details and we will happily give them to you!
Is Communication With the Writer Possible?
Users have a chance to communicate with the writers who have made the bid. They can ask about the specialist's background and clarify certain details. Once the order is assigned, you also have an opportunity to chat directly, without any interference from third parties. On the one hand, it is a good thing. But you should remember that in such a case, no one bears responsibility for data losses.
Degree of Their Qualifications
Unfortunately, there is no way you can be sure that Edubirdie writers are who they are. Moreover, we have conducted our own check, and it turned out that the photos of authors and editors are fake. They are taken from the Internet and have nothing to do with the people working on your assignment.
Quality of Content
Is edubirdie good? The best way to find it out is to understand what type of papers they complete. However, you should remember that there are three types of papers: standard, premium, and platinum quality. When requesting standard quality, you don't have any privileges. When choosing premium quality, you can choose from writers with an 80%+ success rate (+10% to the price). Platinum quality writers have Masters and Ph.D. degrees and a 90% success rate. Be ready to pay +15%.
Unfortunately, not depending on the category, the quality remains rather poor. Most papers contain mistakes, typos, and structure imperfections. It is obvious that the writers are not native speakers and don't have a decent English level.
The Writing Style
While you have a chance to indicate a preferred writing style and upload samples of your works, don't count on the writer to read the instructions. Testimonials and our own experience show that the assignments are standard and follow a common cliché. No individuality and personal approach!
Security Guarantees
As we have already mentioned, Edubirdie's website is too wordy. That is why it is quite difficult to find the necessary information. If you scroll to the bottom of their website, you will see pages with the policies they offer:
Privacy policy
Fair Use policy
Money-back guarantee
But despite the fact that there are lots of words and guidelines, these policies don't work. It is almost impossible to return the money, and from time to time, the data is lost or stolen.
How to Make an Order
Our own impression and edubirdie reviews confirm that their order form is far from being perfect. It is complex, and after providing the basic details, you need to create an account. When the instructions are provided, you should wait for the bidders, review their ratings, and pick the best one. For $9.99, you can skip this stage and let the Edubirdie support team choose a writer.
24/7 Support
The support team is rather aggressive at the beginning – they bombard you with messages just to make sure you place an order. The live chat window beeps every two or three seconds, which is annoying. However, once you make an order and pay, they disappear. Even if any questions arise, don't wait for a quick reply.
Final Thoughts
Is edubirdie scam? Is edubirdie legal? After reading our overview, you can answer these questions on your own. But below, let us share what we think about the company and the services they provide.
Quality Of the Agency
Is edubirdie legit? Unfortunately, we can't name them a quality company. Edubirdie is regularly breaking the rules, creates poor content, doesn't follow the guidelines, and doesn't blame users for bad results.
Meeting the Deadlines
One edubirdie Reddit review after another claims that this company rarely meets the deadlines. It is weird because timely completion is probably one of the main requests, not depending on whether you are a high school or a university student.
Unfortunately, Edubirdie is indifferent to your needs, and if they don't finish the order in time, they will blame you or stop responding.
Choose a Secure Writing Help
Edubirdie seems like a good-looking writing company, but there is an ugly creature waiting for your money beyond the cover. They trick students, copy and paste previous works, and do everything to come out dry from water. If you want your money and personal information to be safe, you better choose a reliable and time-tested company from our list.
Similar Reviews
FAQ
You will hardly find a more detailed review than the one above. However, if you still have any questions left or don't have time to read everything, read our brief answers below. They will surely help to make the right choice.
Is Edubirdie good?
Unfortunately, we can't say that this company is good. Even though they do provide writing service, most of the time, the quality of content is awful. Such a conclusion is based not only on our own experience but also on numerous testimonials on the Internet.
Is Edubirdie Cheating?
We had witnessed a few unpleasant situations when it became obvious that Edubirdie wasn't creating original content. They are also cheating with writers' profile pictures and simply downloading photos online. Thus, you can't be sure who is working on your order.
Are There Edubirdie Discounts?
No, there are no discounts. We have asked the support team, and they said that the quality of the content they created was worth the charged fee. However, we can't agree on this claim and are sure that high prices should not lead to high-quality papers and not to lots of mistakes and plagiarism.
How Much Does Edubirdie Cost?
The company claims to write for as little as $13.99 per page. However, the bidding system means that the writers can set their own prices, and as a rule, they charge much more even though there are lots of good writing services with $10/page fees.
Can You Get Caught Using Edubirdie?
The service uses data encryption technologies, so it is unlikely that anyone will find out about your cooperation. However, considering that most of their orders are plagiarized, there's always a risk that your teacher checks the document and finds out that your content is not unique.